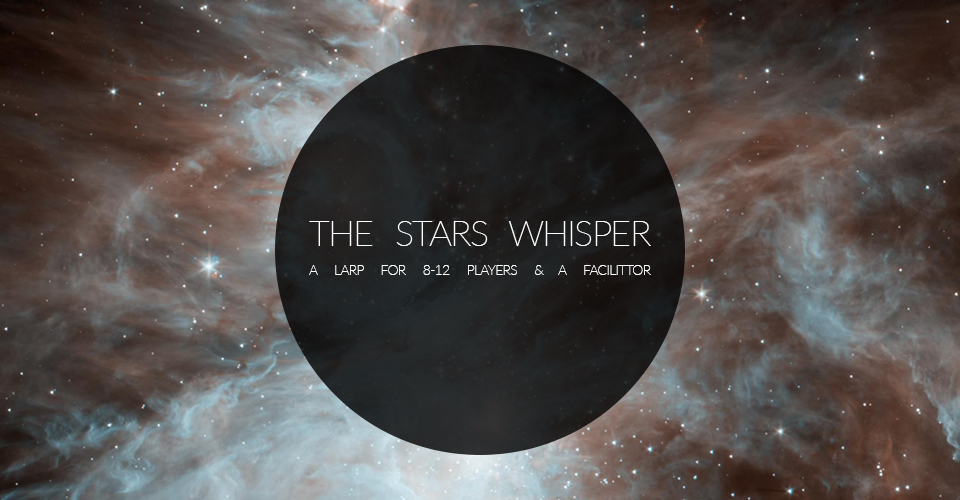 The Stars Whisper
Note: If you have ideas for how to play TSW during social distancing, we'd love to hear them. I could imagine playing it online with everyone in the dark, save their flashlight, and everyone only being able to text-chat with 2 other stars (and the facilitator). That seems like it would work well.

The Stars Whisper is a live action role-playing game (LARP) where participants play the stars in a constellation, shining for millennia in the night sky. Participants will discuss and contemplate philosophical questions, such as the nature of truth, the meaning of existence, or the definition of love with each other, as they light up the void of space.
The game is for 8-12 people and a facilitator. It requires a room where you can turn off or dim the lights, flashlights, and the ability to print character sheets for players. It takes about 90 minutes to 2 hours to complete. The booklet features all the information needed to play, including safety techniques, rules for the players, rules for the facilitator, and character sheets.
The game is designed to be quiet, subtle, still, and meditative, and may summon up feelings of joy, melancholy, connectedness, loneliness, and introspectiveness in players. It is for people interested in pondering philosophical questions, having a contemplative experience, exploring connections with others in a unique way, or who just think that being a star for an hour sounds kind of fun.
When you purchase the game, you get (a) a PDF of the game, (b) a printer friendly PDF of the game, and (c) the character sheets, included in both documents.
Purchase
In order to download this LARP you must purchase it at or above the minimum price of $3 USD. You will get access to the following files:
The Stars Whisper.pdf
1 MB
The Stars Whisper (Printer Friendly).pdf
993 kB