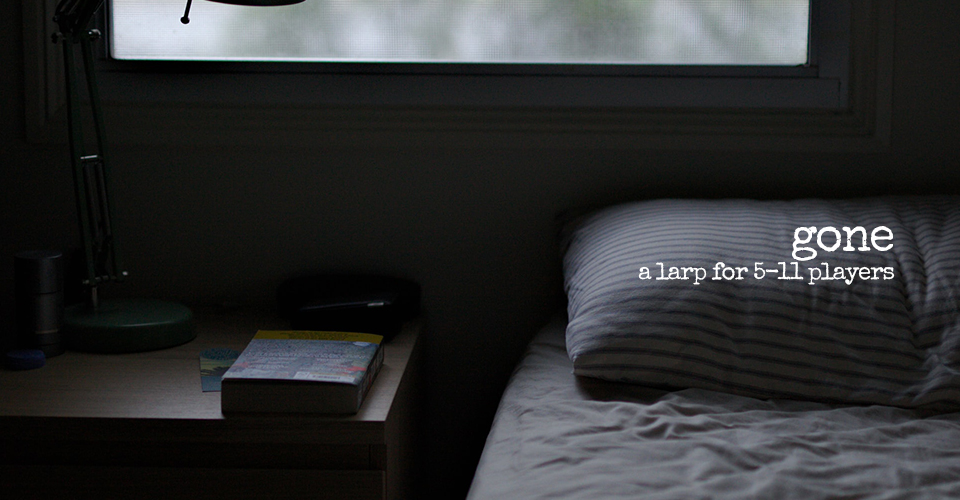 gone
***Until the end of May, gone will be $1 so you can play it while social distancing during Covid-19.

Suggestions for online play: if you play gone online, consider doing the following:
Creating an order for the remnant to go to the players in before you start playing, since there is no physical space to move through.
Indicating you are ready to end your scene, or about to start your scene, if you are an item, by muting or unmuting your microphone.
All other rules should work just fine for online play.
----
gone is a live action role playing game about a person cleaning out the items left behind by someone they cared about, who has either left them or passed on. The players determine the relationship. Examples might be:
A lover who broke up with them.
A best friend or roommate they had a falling out with.
A parent or spouse who passed away.
A child who they have become estranged from.
The central relationship, though, can be whatever the group playing wishes to explore.
One player will take on the role of "the remnant," the person cleaning out the items owned by the gone. The other players will each play one of the items. Together, the players will weave a story about the good times and the bad times the remnant had with the gone, through the lens of remembering how each item factored into their relationship.
gone is for 5 to 11 players, with about 7 or 8 being ideal. It is designed to create an emotional experience for players, while also being a subtle, low-key, meditative, and minimalist game. It comes with safety instructions, a warm up exercise, rules for play, and a debrief. It takes about 1 to 2 hours to play, depending on the size of the group.

Your purchase comes with (a) a PDF of the game, (b) a printer friendly PDF of the game, and (c) the character sheets, included in each of those files.
Purchase
In order to download this LARP you must purchase it at or above the minimum price of $1 USD. You will get access to the following files:
Gone Printer Friendly.pdf
1 MB